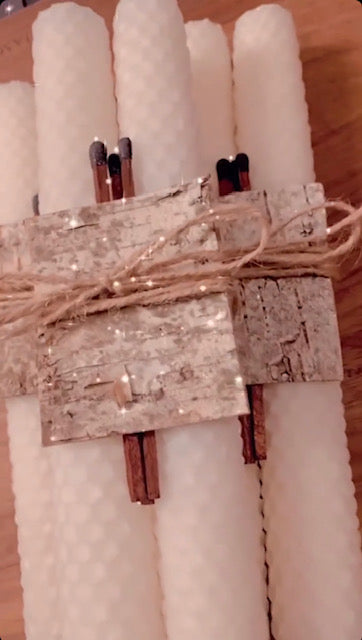 Pair of hand rolled black beeswax candles to assist in your self discovery spellwork and meditation.
Black are used for protection. Depending on your intentional use they can repel negative energies or absorb them fully. 
Also available in white (photos coming soon). White is similarly used in the destruction of negative energy and promoting peace, truth and purity.
Due to the nature of beeswax, these colors are especially appropriate as beeswax releases negative ions that bind to particulate matter in the air and thus assist in purifying the air. Some research also notes the stimulation of the pituitary gland by negative ions which can help increase creativity, intuition and dream states.
Beeswax doesn't need any chemical processing like other waxes and because it has a higher melting point than other waxes, it emits the brightest, most warm-toned flame. The flame is so steady you'll wonder if it's actually lit! Beeswax is so dense (0.958), it burns slower and drips less, and many consider beeswax candles to be drip free.
Sold as a pair of (2) with a few natural cedar matches and birch striking paper.
MATERIALS
Purified natural beeswax n black
Cotton wick
*all photos by Four Horses
BEESWAX CANDLES